Análisis del concepto de Do (Camino) en el estudio del karate en la sociedad contemporánea
Resumen
El presente trabajo de investigación-reflexión se ha enfocado hacia el análisis del concepto de Do al interior del arte marcial del karate y más específicamente dentro del estilo o escuela Shotokan, desde una perspectiva axiológica y epistemológica, enmarcado en una mirada del practicante de karate como un caminante con base en el análisis de la experiencia, el componente cultural actual y el problema de la motivación (la categoría de valor objetivo) de los dichos caminantes. Este trabajo fue llevado a cabo bajo un enfoque de investigación histórico-hermenéutico y se puede concluir que el Karate Do cultiva y debe seguir cultivando la tradición de ejercicios monásticos procedentes de la Budismo, comenzando y terminando con las clases con la meditación en una atmósfera de disciplina, en una relación y vínculo estrecho entre maestro y discípulo, siendo éste el objetivo del presente trabajo reflexivo, analizar el concepto de Do (Camino) en el estudio del Karate en el contexto social actual.
Palabras clave:
Ética, Karate Do, Sensei, Sociedad
Referencias
Archer, M.S. (2019). Kultura i sprawczość. Miejsce kultury w teorii spolecznej. Narodowe Centrum Kultury.
Bartik, P., Vences de Brito, A., Sieber L., y Cynarski, W.J. (2020). Review of important events, publications and comments AD 2019. Ido Movement for Culture. Journal of Martial Arts Anthropology, 20(1), 58-73. http://dx.doi.org/10.14589/ido.20.1.8
Blazejewski, W., y Szal, E. (2019). Metodyka przygotowania pracy dyplomowej [Methodology of preparing the diploma thesis]. PWSTE.
Blumentritt, B. (2019). Badges and honorary pins used by Deutscher Dan-Trager und Budo-Lehrer Verband e.V. Ido Movement for Culture. Journal of Martial Arts Anthropology, 19(3), 63-65. http://dx.doi.org/10.14589/ido.19.3.8
Dai, G.B., y Lu, A. (2019). Wushu: A culture of adversaries. Journal of the Philosophy of Sport, 46(3), 321-338. https://doi.org/10.1080/00948705.2019.1649599
Epuran, M., Holdevici, I., y Tonite, F. (2008). Performance sport psychology: theory and practice (pp. 37-61). Publisher FEST.
Fu, Y. (2019). The influence of the philosophy of traditional Chinese martial arts on the development of public health education. Indian Journal of Pharmaceutical Sciences, 81(1S), S43. https://www.ijpsonline.com/supplementary-files/supplement-to-issue-jan-feb-2019.pdf
Fukuyama, F. (1999). Social Capital and Civil Society. Prepared for delivery at the IMF Conference on Second Generation Reforms. http://www.imf.org/external/pubs/ft/seminar/1999/reforms/fukuyama.htm
Funakoshi, G. (1938). The Twenty Guiding Principles of Karate. Kodansha Internacional.
Kogel, H. (2018). Kyusho Jutsu. Basics, most important points (2nd. ed.). Blurb, Lippstadt.
Kuśnierz, C., Cynarski, W., y Gorner, K. (2017). Social reception and understanding of combat sports and martial arts by both school students and adults. Ido Movement for Culture. Journal of Martial Arts Anthropology, 17(1), 30-37. http://dx.doi.org/10.14589/ido.17.1.5
Nakayama M. (1994). Best karate. Japan Karate Association.
Nakiri, F. (2019). 50 years of the Japanese Academy of Budo. JAB.
Putnam, R.D. (2007). E Pluribus Unum: Diversity and Community in the Twenty first Century, The 2006 Johan Skytte Prize Lecture. Scandinavian Political Studies, 30(2), 137-174. http://dx.doi.org/10.1111/j.1467-9477.2007.00176.x
Russo, G., y Ottoboni, G. (2019). The perceptual - cognitive skills of combat sports athletes: A systematic review. Psychology of Sport and Exercise, 44, 60-78. https://doi.org/10.1016/j.psychsport.2019.05.004
Szeligowski, P. (2009). Traditional Karate Kyokushin. J.K.
Szyszko-Bohusz, A. (2007). The problem of the proper ethical and social preparation of teachers and participants the of Combat Sports and Martial Arts in the epoch of globalisation science and technology. Ido Movement for Culture. Journal of Martial Arts Anthropology, 7.
Vélez, B., Cifuentes, X., y Montoya, J. (2011). Convergencia entre el conocimiento, el contexto y la perspectiva de humanidad para la reforma curricular en la universidad La Gran Colombia - Armenia: Relato de una experiencia. Sophia, 7(1). 9-19. http://dx.doi.org/10.18634/sophiaj.7v.1i.117
Yi, J. (2009). God and Karate on the Southside: Bridging differences, Building American communities. Lexington Books.
Yi, J., y Graziul, C. (2011). Religious Conservatives, Outsiders, and Pluralist Virtues. Paper presented at the Annual Creative Economy Conference, Toronto.
Zeng, H.Z., Cynarski, W.J., y Xie, L. (2013). Martial Arts Anthropology, Participants' Motivation and Behaviours. Martial Arts in Chanshu: Participants' Motivation, Practice Times and Health Behaviours. Lambert Academic Publishing.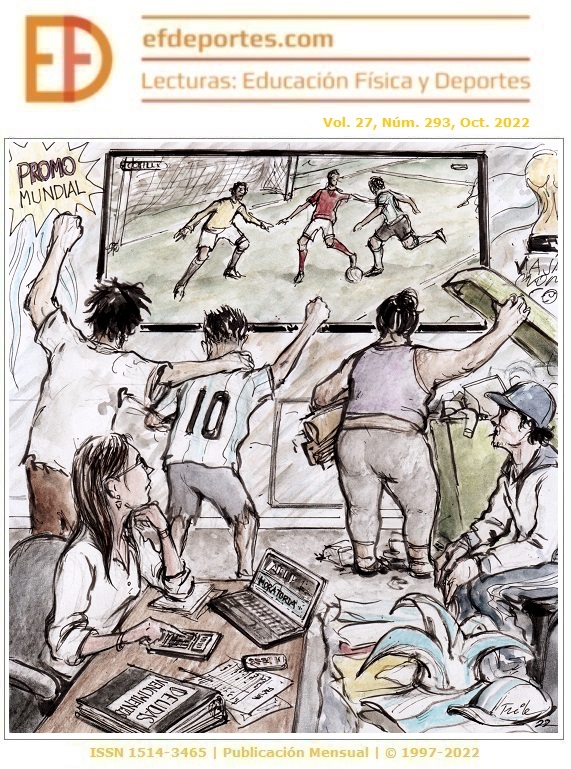 Cómo citar
Mejía Giraldo, L. M., & Pizarro Castro, B. F. (2022). Análisis del concepto de Do (Camino) en el estudio del karate en la sociedad contemporánea. Lecturas: Educación Física Y Deportes, 27(293), 178-192. https://doi.org/10.46642/efd.v27i293.3220
Sección
Artículos de Revisión
Derechos de autor 2022 Lecturas: Educación Física y Deportes
Esta obra está bajo licencia internacional
Creative Commons Reconocimiento-NoComercial-SinObrasDerivadas 4.0
.