Factores de riesgo, causas y efectos en la sintomatología lumbar en nadadores. Una revisión sistemática
Resumen
El dolor lumbar es un problema común entre los nadadores. El objetivo de la revisión sistemática fue evaluar los estudios publicados, y definir los factores de riesgo que pueden predisponer a un nadador a padecer lumbalgia. Se investigaron las bases de datos de PubMed, Google Scholar, Web of Sciences y Cochrane Library, y se utilizaron las palabras clave Low Back Pain AND Swimmers. Según los criterios definidos, se encontraron 2122 artículos luego de las exclusiones finales y los artículos repetidos, se analizaron artículos entre los años 2010 a 2020. Se consideraron todos los individuos, independientemente de su edad o sexo. En consecuencia, de nuestra revisión de los estudios, llegamos a la conclusión de que existen fuertes indicadores de que el dolor lumbar está asociado con problemas técnicos y falta de fortalecimiento muscular en la zona lumbar. Estos resultados son una herramienta para afirmar y orientar la importancia de una técnica de natación adecuada para cada individuo, así como la aplicación de programas de fortalecimiento muscular en nadadores por parte de los equipos técnicos. Aún existen algunas dudas sobre los beneficios de la natación en el tratamiento de algunas enfermedades relacionadas con la columna, o incluso para el bienestar del individuo.
Palabras clave:
Dolores lumbares, Natación, Ejercicios, Fortalecimiento muscular, Técnica
Referencias
Adiele, D., e Morgan, G. (2018). Prevalence of Musculoskeletal Injuries in Males and Females Practicing Swimming from Higher School of Zimbabwe. American Journal of Sports Science, 6(1), 8-11. https://doi.org/10.11648/j.ajss.20180601.12
Benjamin de Vries, A., Mullender, M., Pluymakers, W., Castelein, R., e Van Royen, B. (2010). Spinal decompensation in degenerative lumbar scoliosis. European Spine Journal19, 1540–1544. https://doi.org/10.1007/s00586-010-1368-z
Chase, K., Caine, D., Goodwin, B., Whitehead, J., e Romanick, M. (2013). A prospective study of injury affecting competitive collegiate swimmers. Research in Sports Medicine, 21(2), 111-123. https://doi.org/10.1080/15438627.2012.757224
Du, T., Narita, I., e Yanai, T. (2016). Three-dimensional torso motion in tethered front crawl stroke and its implications and its implications on low back pain. Journal Applied Biomechanical, 32(1), 50-58. https://doi.org/10.1123/jab.2015-0024.
Duthey, B. (2013). Background paper 6.24: low back pain World Health Organization (WHO). Priority medicines for Europe and the world 'A public health approach to innovation'. Geneva, WHO.
Esser, M. (2017). Effects of core stability training on masters swimmers. Sportverletz Sportschaden, 31(2), 93-102. https://doi.org/10.1055/s-0043-101973.
Evershed, J., Burkett, B., e Mellifont, R. (2014). Musculoskeletal screenig to detect asymmetry in swimming. Physical Therapy in Sport, 15(1), 33-38. https://doi.org/10.1016/j.ptsp.2013.02.002
Folkvardsen, S., Magnussen, E., Karppinen, J., Auvinen, J., Larsen, Wong, C., e Bendix, T. (2016). Does elite swimming accelerate lumbar intervertebral disc degeneration and increase low back pain? A cross-sectional comparison. European Spine Journal, 25, 2849-2855. https://doi.org/10.1007/s00586-016-4642-x
Hangai, M., Kaneoka, K., Hinotsu, S., Shimizu, K., Okubo, Y., Miyakawa, S., Mukai, N., Sakane, M., e Ochiai, N. (2009). Lumbar intervertebral disk degeneration in athletes. American Journal of Sports Science, 37(1),149-155. https://doi.org/10.1177/0363546508323252.
Kaneoka, K., Shimizu, K., Hangai, M., Okuwaki, T., Mamizuka, N., Sakane, M., e Ochiai, N. (2007). Lumbar intervertebral disk degeneration in elite competitive swimmers: a case control study. American Journal of Sports Science, 35(8), 1341-145. http://dx.doi.org/10.1177/0363546507300259
Kitamura, G., Tateuchi, H., e Ichihashi, N. (2019). Swimmers with low back pain indicate greater lumber extension during dolphin kick and psoas major. Journal Sport Rehabilitation, 29, 1-28. https://doi.org/10.1123/jsr.2018-0262
Kobayashi, K., Kaneoka, K., Takagi, H., Sengoku, Y., e Takemura., M. (2015). Lumbar alignment and trunk muscle activity during the underwater streamline position in collegiate swimmers. Journal of Swimming Research, 23(1), 33-43. https://www.researchgate.net/publication/275465810
López, F, e Rodríguez, C. (2016). Impacto de la natación en la columna vertebral. Orthotips, 12(4), 207-213. https://www.medigraphic.com/cgi-bin/new/resumen.cgi?IDARTICULO=69774
Mahaudens, P., e Becquet, J. (1999). Rééducation des scoliose idiopathiques de l'adolescent: Apport thérapeutique de la natation synchronisée. Annales de Kinésithérapie, 26(8), 360-368. https://ifpek.centredoc.org/index.php?lvl=notice_display&id=73626
Meliscki, G.A., Monterio, L.Z., Maman, D., Medeiros, A., e Giglico, C.A. (2010). Postural assessment and joint instability in athletes of federated Brazilian swimmers. British Journal of Sports Medicine, 44(14). https://doi.org/10.1136/bjsm.2010.078972.13
Moher, D., Liberati, A., Telzlaff, J., e Altman D.G. (2009). Preferred reporting items for systematic reviews and meta-analyses: the PRISMA statement. PLOS Medicine, 6(7), e1000097. https://doi.org/10.1371/journal.pmed.1000097
Nagano, Y., Kobayashi-Yamakawa, K., Higashihara, A., e Yako-Suketomo, H. (2019) Japanese translation and modification of the Oslo Sports Trauma Research Centre overuse injury questionnaire to evaluate overuse injuries in female college swimmers. Plos One, 14(4), e0215352. https://doi.org/10.1371/journal.pone.0215352
Nowotny, AH, Calderon, MG, de Souza, PA, Aguiar, AF, Léonard, G., Alves, B., Amorim, C., e Silva, R. (2018). Lumbar stabilization exercises versus back endurance-resistance exercise training in athletes with chronic low back pain: protocol of a randomized controlled trial. Sport & Exercise Medicine, 4, 1-8. https://doi.org/10.1136/bmjsem-2018-000452
Nyska, M., Constantini, N., Cale-Benzoor, M., Back, Z., Kahn, G., e Mann, G. (2000). Spondylysis as a cause of low back pain in Swimmers. International Journal Sports Medicine, 21, 375-379. http://dx.doi.org/10.1055/s-2000-3780
Persson, E., e Zetaruk, M. (2014). Swimming and the Spine. In: L.J. Micheli, C.J. Stein, M. O'Brien, e P. D'Hemecourt (eds.). Spinal Injuries and Conditions in Young Athletes (pp. 99-104). https://doi.org/10.1007/978-1-4614-4753-5_10
Sambanis, M., Athanailidis, I., Sambanis, A., Kiritsi, O., Tsitas, K., e Charalambos, I. (2013). A Study of Musculoskeletal Injuries in Greek Male and Female Swimmers. Journal of Novel Physiotherapies, 3, 140. https://doi.org/10.4172/2165-7025.1000140
Solana-Tramunt, M., Morales, J., Cabedo-Sanromà, J., e Guerra-Balic, M. (2018). The use of an electrogoniometer to assess both lumbar range of movement and its conscious control: A comparison between healthy subjects and elite swimmers. Gazzetta Medica Italiana, 177, 1-10. https://doi.org/10.23736/S0393-3660.18.03752-X
Tanchev, P., Dzherov, A. Parushev, A., Dikov, D., e Todorov, M. (2000). Scoliosis in Rhithmic Gymnasts. SPINE, 25(11), 1367-1372. https://doi.org/10.1097/00007632-200006010-00008
Venâncio, B., Tacani, P., e Deliberato, P. (2012). Pain prevalence in swimming athletes of São Caetano do Sul. Revista Brasileira Medicina Esporte, 18(6), 394-399. http://dx.doi.org/10.1590/S1517-86922012000600010
Zaina, F., Donzeli, S., Lusini, M., Minnella, S., e Negrini, S. (2015). Swimming and spinal deformities: a cross-sectional study. Journal of Pediatrics, 166(1), 163-7. https://doi.org/10.1016/j.jpeds.2014.09.024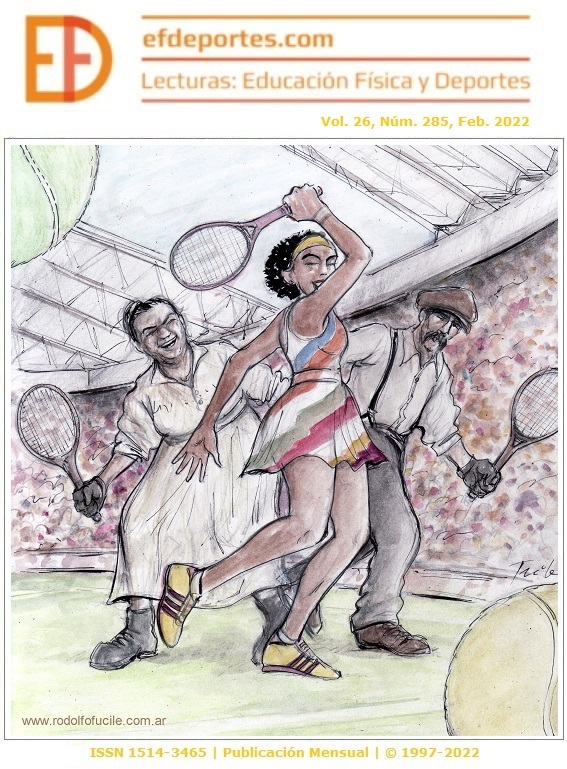 Cómo citar
Santos, S. (2022). Factores de riesgo, causas y efectos en la sintomatología lumbar en nadadores. Una revisión sistemática. Lecturas: Educación Física Y Deportes, 26(285), 174-185. https://doi.org/10.46642/efd.v26i285.2693
Sección
Artículos de Revisión
Derechos de autor 2022 Lecturas: Educación Física y Deportes
Esta obra está bajo licencia internacional
Creative Commons Reconocimiento-NoComercial-SinObrasDerivadas 4.0
.