Políticas públicas municipales y el caso del baloncesto masculino brasileño
Resumen
El objetivo de este estudio fue identificar si las administraciones municipales participan en el sostenimiento de los equipos participantes en el Nuevo Baloncesto Brasil (NBB), competencia equivalente al campeonato nacional y, de ser así, verificar si dicho apoyo puede entenderse como una política pública incremental. Se utilizó la metodología de estudio de caso, teniendo como objeto el NBB, 2011-2017. Se realizó un análisis documental, utilizando como fuente las Guías Oficiales de Medios de NBB para las temporadas relacionadas con dicho período, para verificar la presencia o ausencia de sustento/patrocinio del gobierno municipal a equipos. Encontramos que entre el 40 y el 60% de los equipos que participaron en el NBB durante el período estudiado recibieron financiación pública. A partir de literatura de ciencia política, hemos desarrollado la hipótesis de que el uso recurrente de este tipo de financiación para apoyar a los equipos de alto rendimiento proviene de políticas incrementalistas orientadas al deporte. Los datos apuntaban al uso de recursos públicos en los equipos participantes en los campeonatos nacionales de baloncesto en todas las temporadas, principalmente en equipos ubicados en ciudades del interior. Por tanto, se pudo confirmar la hipótesis. Los hallazgos pueden servir para orientar el desempeño de los agentes políticos en las decisiones relativas al financiamiento (o no) de los equipos de alto rendimiento, y también pueden indicar a los gerentes de equipos profesionales que existe una tendencia a que este tipo de financiamiento disminuya y, en consecuencia, es necesario pensar en otras alternativas para mantener estos equipos.
Palabras clave:
Políticas públicas, Esportes, Basquete, Financiamento, Incrementalismo
Descargas
La descarga de datos todavía no está disponible.
Referencias
Almeida, B. S. (2010). O financiamento do esporte olímpico e suas relações com a política no Brasil [The funding of Olympic sport and its relationships with politics in Brazil] [Thesis Master's degree in Physical Education, Federal University of Paraná, Curitiba, Brazil].
Araújo, L., & Rodrigues, M. L. (2017). Modelos de análise das políticas públicas [Analysis models of public policies]. Sociologia, problemas e práticas [Sociology, problems and practices]. n. 83(1), p. 11-35. http://dx.doi.org/10.7458/SPP2017839969
Barlow, A., & Forrest, D. (2015). Benefits to their communities from small town professional football clubs. National Institute Economic Review, 232, 18-29. https://doi.org/10.1177/002795011523200103
Borges, C. N. F., & Tonini, G. T. (2012). O incentivo ao esporte de alto rendimento como política pública: influências recíprocas entre cidade e esporte [The incentive to high performance sport as a public policy: reciprocal influences between city and sport]. Revista Brasileira de Ciências e Esporte [Brazilian Journal of Sciences and Sport], Florianópolis, Brazil, 34(2), 281-296. https://doi.org/10.1590/S0101-32892012000200003
Brasil [Brazil]. Constituição da República Federativa do Brasil de 1988 [Constitution of the Federative Republic of Brazil of 1988]. http://www.planalto.gov.br/ccivil_03/constituicao/constituicao.htm
Bueno, L. (2008). Políticas Públicas do Esporte no Brasil: razões para o predomínio do alto rendimento [Public policies of sports in Brazil: reasons for the high performance predominance] [Dissertation Doctoral degree in Public Administration and Government, Fundação Getúlio Vargas, São Paulo, Brazil].
Coakley, J. (2016). Sports in Society: issues and controversies (12th edition). Mc Graw Hill.
Galily, Y., Yuval, F., & Bar-Eli, M. (2012). Municipal subsidiary policy toward professional sports teams: A democratic deficit in the local government. International Journal of Sociology and Social Policy, 32(7), 431-447. https://doi.org/10.1108/01443331211249066
Gaudin, B. (2007). O basquete no país do futebol [Basketball in the football country]. Revista de Ciências Sociais [Journal of Social Sciences], 38(1), 53-58.
Gil, A. C. (2019). Métodos e técnicas de pesquisa social [Methods and techniques of social research] (7th edition). Atlas.
Hirata, E., Pépece, O. M. C., & Starepravo, F. A. (2017). Motivações para o consumo de partidas do Campo Mourão Basquete por integrantes de torcida organizada [Motivations for consumption of matches of Campo Mourão Basketball by members of supporters' groups]. In: Anales del Congreso Iberoamericano de Economía del Deporte, Ciudad Real, Spain.
Hirata, E. (2020). "Liga forte, clubes fracos?": A espetacularização do basquete masculino brasileiro (2008-2019). ["Strong League, weak clubs?": The spectacularization of Brazilian male basketball]. [Thesis Doctoral degree in Physical Education, UEM, Maringá, Brazil].
Johnson, G. (1988). Rethinking incrementalism. Strategic Management Journal, 9(1), 75-91. https://doi.org/10.1002/smj.4250090107
Lesmann, S. (1989). Government, interest groups and incrementalism. European Journal of Political Research, 17(4), 449-469. https://doi.org/10.1111/j.1475-6765.1989.tb00203.x
Lindblom, C. E. (1959). The Science of 'Muddling Through. Public Administration Review, 19(2), 79-88. https://doi.org/10.2307/973677
Lindblom, C. E. (1979). Still Muddling, not yet Through. Public Administration Review, 39(6), 517-526. https://doi.org/10.2307/976178
Melini, F. (2016). O novo basquetebol brasileiro: um olhar sobre os processos de formação e de espetacularização da modalidade no país [The new Brazilian basketball: a look at the processes of formation and spetacularization of the sport in the country] [Thesis Graduate Program in Social Sciences of the Social Sciences Department of State University of Maringá, Maringá, Brazil].
Mezzadri, F. M., Starepravo, F. A., Basso, D., Guimarães, L., & Reis, R. P. (2006). Políticas públicas para o esporte e o lazer nas cidades do estado do Paraná [Public policies for sport and leisure in the cities in the State of Paraná]. In: F.M. Mezzadri, F.R. Cavichiolli, & D.L. Souza, Esporte e lazer – subsídios para o desenvolvimento e a gestão de políticas públicas (pp. 43-60). [Sport and leisure – subsidies for the development and management of public policies]. Fontoura.
Muttera, F., & Pawlowski, T. (2014). The monetary value of the demonstration effect of professional sport. European Sport Management Quarterly, 14(2),129-152. https://doi.org/10.1080/16184742.2014.882369
Starepravo, F. A., Canan, F., & Santos, L. L. S. R. (2018). A Panorama on Sports Policies in Brazil. In: R. Kyros, & L. Mott, Public policy & social change: perspectives, challenges and future directions. Nova Science Publishers, Inc.
Teixeira, M. R., Matias, W. B., & Mascarenhas, F. (2015). O financiamento do esporte olímpico no Brasil: uma análise do ciclo de Londres (2009-2012) [The funding of the Olympic sport in Brazil: an analysis of London Olympic cycle (2009-2012)]. In: W.B. Matias, P.F. Athayde, & F. Mascarenhas (Orgs.), Políticas de Esporte nos anos Lula e Dilma [Sport policies in the presidencies of Lula and Dilma]. Thesaurus.
Toledo, R. M. (2014). As políticas públicas e o direito 'social' ao esporte: uma análise a partir do estado do Paraná (1995-2010) [Public policies and 'social' right to sport: an analysis based on the State of Paraná (1995-2010)]. [Dissertation Doctoral degree, Department of Human Sciences, Federal University of Paraná, Curitiba, Brazil].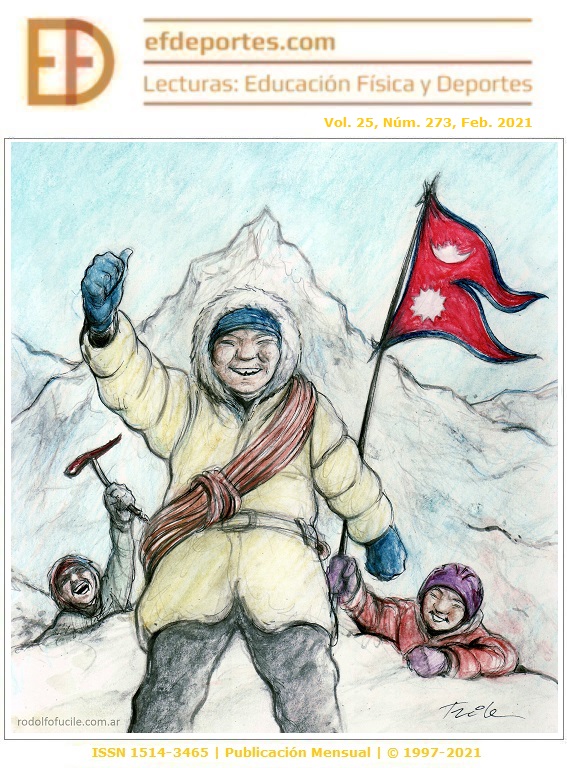 Cómo citar
Hirata, E., Canan, F., & Starepravo, F. A. (2021). Políticas públicas municipales y el caso del baloncesto masculino brasileño. Lecturas: Educación Física Y Deportes, 25(273), 2-15. https://doi.org/10.46642/efd.v25i273.2272
Sección
Artículos de Investigación
Derechos de autor 2021 Lecturas: Educación Física y Deportes
Esta obra está bajo licencia internacional
Creative Commons Reconocimiento-NoComercial-SinObrasDerivadas 4.0
.