Now, in the case of some fanzines, there does appear to be a bit of a paradox in relation to their wider humanism. While on the one hand, fanzines tend to be explicitly anti-racist, on the other hand you find that their representation of other teams and supporters creates a form of 'neo-racism'.
| | |
| --- | --- |
| Picture 5 | Picture 6 |
For example, Aberdeen fanzines tend to concentrate heavily on their opposition to supporters in the Glasgow area of Scotland - and by that I mean fans of Rangers and Celtic. Now, the Glasgow area of Scotland is not a particularly wealthy area, and tends to be stereo-typically associated with an underlying culture of poverty, ill health, crime, violence and religious bigotry and sectarianism. As these pictures show, the Aberdeen fanzines are not slow to use this in their caricatures of Rangers (Picture 5) and Celtic (Picture 6) fans. To some, these images may border on neo-racism. The editors of the fanzines claim that this is not so - they say that, with racism, you are attacking someone on the basis of their colour, which they did not choose; with football fans, it is their choice regarding which club they want to support; in the case of Rangers and Celtic fans, the fanzines are simply indicating that a particular kind of person tends to choose to support this kind of football club - a slightly convoluted kind of logic.
Football fanzines have turned to a new area of cultural politics - and that is the impact of new laws and legislation on football. As you will know, we have a rather right-wing government in power in the UK - since 1979, at least. Hence, rather strong criminal legislation has been passed, to tackle the 'problem' of football crowds. Now, football fanzines did not say much about the anti-hooliganism laws of the 1980s and the early 1990s. However, in 1994, new legislation was passed, as part of the Criminal Justice Act (CJA). And, this act has criminalised a lot of the behaviour that takes place at football matches. For example, if you swear openly, or start a chant with swearing in it, you can be arrested. Also, if you have an extra ticket for the football, and want to sell it, at face value, with no profit involved, you can be arrested.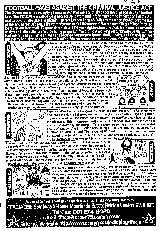 Now, this piece of legislation has led to the creation of a new social movement - Football Fans Against the Criminal Justice Act (FFACJA). This organisation has its own web page, and tries to agitate against the legislation. The FFACJA use football fanzines as a medium for publicising their hostility to the legislation (Picture 7). The classic fanzine medium - the cartoon - is a popular way of publicising this campaign.